History
The Kilkenny Gospel Choir came into existence in 2000. The choir is a charitable foundation and through singing we have raised in excess of €400k. To date we have produced two CDs and one single. Our first CD, 'Kilkenny Sings Gospel' was hugely successful and raised much needed funds for the Kilkenny Rape Crisis Centre and the Kilkenny Women's refuge.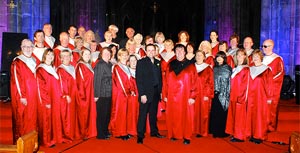 We released a single "Sleep Little Angel" for the Sudden Infant Death Association. Our third CD, "Somebody's Praying" was released in March 2008 in aid of the Irish Cancer Society and Cancer Care.
The Kilkenny Gospel Choir has sung nationwide and on the international stage. In 2005 the choir travelled to Washington DC where we sung at a number of venues. In 2007, the choir travelled to Boston and New York. In Boston, we met and performed with the world renowned, Joyful Voices of Inspiration Choir. In New York we had the honour of performing in St. Patrick's Cathedral.
The choir is a favourite of former Irish President McAleese and has performed in Áras an Uachtaráin on many occasions.
The launch of CD 'Somebody's Prayin' put us on the international market as one of the best loved choirs in Europe. We are always delighted as a choir to be able to outreach to the various requests we get for fundraising. This is only possible through the generosity and self giving of the choir members and the support of the people of Kilkenny, Ireland and our many friends throughout Europe and the US.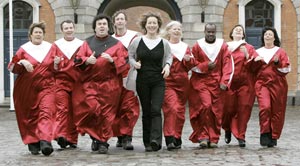 The most important aspect of the choir is our spirituality. Prayer is a strong focus for us. We continually thank God for the many gifts he has given to our choir – voice, music, charity and friendship to mention a few.
We always pray that through our music many hearts and lives will be touched with the realisation that they are loved by God.
As the Kilkenny Gospel Choir we give thanks for all we have received, we say "yes" to whatever God asks us to do and we look forward with hope to many years of singing Gospel. We hope that your visit to our website will inspire you in many ways.
Fr. Willie Purcell (Director, Kilkenny Gospel Choir)